PRODUCTS
Hydraulic Baler
The company develops and produces automatic winding and pipe management machine, automatic yarn throwing equipment of yarn warehouse winder, and sells intelligent roving blowing and suction cleaning machine, energy-saving cotton suction fan, automatic spinning and pipe management machine, intelligent slub yarn device.
Product consultation
Product introduction
■ Product Usage
This machine is mainly used for packaging and bundling of fibers such as cotton belly and chopped raw cotton in cotton textile mills. It can be used not only on a single machine, but also in conjunction with dust removal fiber compactors or waste cotton processing machines to achieve automatic packaging processing.
■ Product features
This machine has the advantages of small size, convenient installation and use, good operating environment, and low labor intensity.
·The 7.5Kw main cylinder of the packer can be operated intermittently according to different conditions of users, with low energy consumption during operation.
·The oil circuit of the hydraulic system is improved without increasing the oil temperature, and the main cylinder trolley has good stability for tooling production.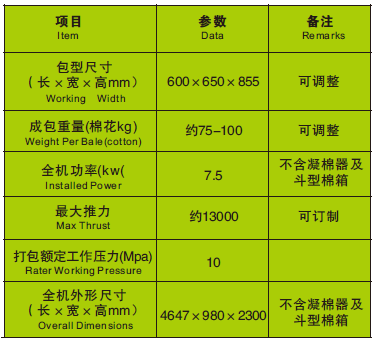 The machine is designed with coarse finishing of storage tube and fine finishing of yarn tube, which ensures the smooth finishing of yarn tube through two-step finishing; Using machine vision inspection technology to discriminate the color, orientation and remaining yarn state of spinning tubes, and accurately classify spinning tubes; By compressed air injection in the branch of the body to achieve the spinning tube moving, improve the tube management machine pushing the working life of the device; The tube overturning device of the tube dropping mechanism can adapt to the tube overturning of spun yarn tubes with different diameters to ensure the consistency of the top position of spun yarn tubes; To meet the requirements of different users, the nozzle mechanism is suitable for both rectangular turnover box and circular arc turnover box.
Full-automatic winding and pipe management machine/ Automatic yarn feeding equipment of winder/ Touring blow-suction cleaner/ Energy-saving cotton suction fan/ Automatic spinning pipe management machine/ Intelligent spinning device/ Roving roving device/ New waste cotton processor/ Hydraulic series baler