PRODUCTS
The New Cotton Waste Processor
The company develops and produces automatic winding and pipe management machine, automatic yarn throwing equipment of yarn warehouse winder, and sells intelligent roving blowing and suction cleaning machine, energy-saving cotton suction fan, automatic spinning and pipe management machine, intelligent slub yarn device.
Product consultation
Product introduction
■ Product Usage
·It is mainly used in cotton mills to recover useful fibers from leftover cotton, such as various types of waste cotton such as clean steel noil, chopped knife, etc.
■ Working principle
·The effective fibers picked up by the cotton grabber are adsorbed onto the surface of the dust cage of the cotton condenser, peeled off by the cotton stripper and dropped into the cotton box. After being loosened and removed by the double beaters, they enter the feeding roller, which is then loosened by the next opening beater. Finally, the fiber layer is combed by the jaw feeding roller between the cotton feeding roller and the cotton feeding plate, and the fiber layer is well removed. Under the action of the fan, it is adsorbed on the surface of the dust cage and removed the lint and fine impurities, which are output by a pair of cotton strippers, The impurities are discharged through the air duct through the blade valve in the debris removal area.
■ Product features
·The system process cancels pre opening, improves the output and impurity removal effect, shortens the system process, and reduces energy consumption (15%).
■ Technical parameters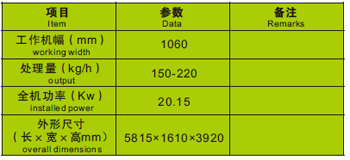 ■ Structural diagram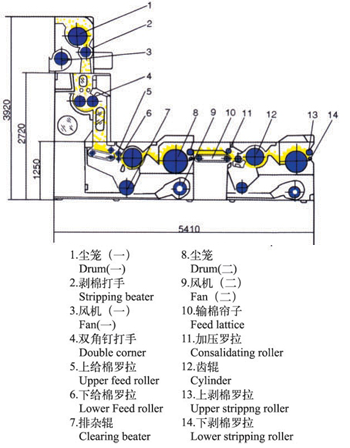 ■ Waste cotton treatment process

■ Mixing and packaging with cotton grabbing machine
■ Dust removal and noil packaging

The machine is designed with coarse finishing of storage tube and fine finishing of yarn tube, which ensures the smooth finishing of yarn tube through two-step finishing; Using machine vision inspection technology to discriminate the color, orientation and remaining yarn state of spinning tubes, and accurately classify spinning tubes; By compressed air injection in the branch of the body to achieve the spinning tube moving, improve the tube management machine pushing the working life of the device; The tube overturning device of the tube dropping mechanism can adapt to the tube overturning of spun yarn tubes with different diameters to ensure the consistency of the top position of spun yarn tubes; To meet the requirements of different users, the nozzle mechanism is suitable for both rectangular turnover box and circular arc turnover box.
Full-automatic winding and pipe management machine/ Automatic yarn feeding equipment of winder/ Touring blow-suction cleaner/ Energy-saving cotton suction fan/ Automatic spinning pipe management machine/ Intelligent spinning device/ Roving roving device/ New waste cotton processor/ Hydraulic series baler